After the launch of the iPhone, the trend was to build separate sites depending on whether a person visited the site from a desktop computer or a mobile device. This was a time-consuming, expensive proposition, leading to increased maintenance costs.
WEB DESIGN & DEVELOPMENT

Responsive Web Design (RWD)
In 2010, web designer, Ethan Marcotte in his article in 'A List Apart', came up with the term 'Responsive Design'. He discussed the rapidly changing environment of devices, browsers, screen sizes, and orientations. According to him, building separate sites for every type of device simply wouldn't be feasible or sustainable, so he proposed an alternative concept: responsive design.
Responsive Web Design (RWD) is defined by Wikipedia as "an approach toweb design which makes web pages render well on a variety of devices and window or screen sizes."
As the use of mobile devices to surf the web grows at a mind-boggling pace, and screen sizes keep changing across a multitude of devices, web design calls for building flexible and fluid layouts that adapt to almost any screen, today or in the future. Unfortunately much of the web isn't optimized for those mobile devices.
Flexible Images And Media
Responsive web design consists of three development principles. The first and most important is fluid grids. A flexible grid-based layout uses relative sizing to fit the content to the device's screen size. CSS is used to position the content. This approach is based on percentages as opposed to the old pixel-based design. By basing text size, widths, and margins on percentages, a fixed size can be turned into a size relative to its display space.
Secondly, flexible images and media are also sized in relative units, so that they adapt and load differently, depending on the device, either by scaling or using the CSS overflow property.
The third and fundamental part of responsive web design is media queries, also known as breakpoints. These enable us to customize the appearance of websites for multiple devices. The website detects the type of device you're using or the size of your web browser and correctly displays the page, adapting to different screen sizes and resolutions.
SEO Algorithm
In Responsive Web Design, it's also important for designers to take 'touch' into consideration. On smart phones or tablets, users mostly use their fingers to navigate and select items. Moreover, there's the issue of graphics, ads and download speed. It's wise to display fewer graphics so that a site doesn't take too long to load on a smartphone.
All in all, a responsive design that is flexible enough to be viewed on multiple devices just makes sense. In fact, because Google prioritizes a site's mobile viewing experience into the factors in its SEO algorithm, responsive design isn't a choice—it's essential if you want your site to be visible in search results.
Responsive Web Design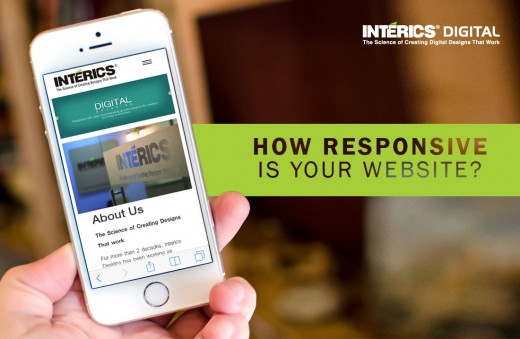 SEO and Content Marketing
For engaging & responsive web design, Interics Digital offers creative and technical capabilities. As an experienced digital marketing agency, Interics Digital can strategies, design and execute the appropriate digital plan to ensure you maintain a positive connect with your online audience. PPC campaigns, SEO and Content Marketing for stimulating interest and lead generation, SMMstrategy on social platforms, Interics Digital provides comprehensive services to enhance your digital presence and build brand. Contact: www.intericsdigital.com
Please follow and like us:
About Author
Author: Interics Digital
We provide Digital Marketing Solutions by developing optimal interactive environments to engage your online audience. We follow the tried-and-tested RESEARCH, STRATEGIZE, EXECUTE and ANALYZE process to create intelligent online campaigns. Our years of industry experience empower us to offer you a gamut of digital branding and marketing solutions. We have the knowledge, the expertise and the creativity to become your "Online Brand Custodian".
This author has published 11 articles so far.